Simon LITTLE of Cumberland, England.
Born c1739 (from his burial details).

The earliest generation so far traced is that of Simon Little of Bewcastle, Cumberland, England. Simon's marriage in 1777 and the baptisms of his children occurred at Bewcastle. However, his death occurred at Aglionby, Cumberland together with the baptisms of several of his grandchildren in the period 1808 to 1816. His sons John, James and Thomas subsequently all lived in the area of Cumwinton/Wetheral in the period of census records (1841 onwards). So it appears that there were two migrations of the family, firstly from Bewcastle to Aglionby and then to Wetheral. The Aglionby (Warwick) parish records have been studied for all occurrences of the Little name as it is most likely that they would have all been related in such a small township. (The family seat of Aglionby was established in Cumberland by one of the soldiers of the Norman Conquest, Walter de Aguilon.) Mark A is Bewcastle, Mark B is Aglionby and Mark C is Wetheral, A to B being about 20 miles. Many descendants also lived in Haltwhistle.

"WETHERAL with WARWICK, Cumberland. WETHERAL (Holy Trinity), a parish, in the union of Carlisle, chiefly in Cumberland ward, but partly in Eskdale ward, E. division of the county of Cumberland; containing, with the townships of Great Corby, Coathill, Cumwhinton, Scotby, and WarwickBridge, 2806 inhabitants, of whom 586 are in Wetheral township, 5 miles (E. by S.) from Carlisle." (ref FamilySearch)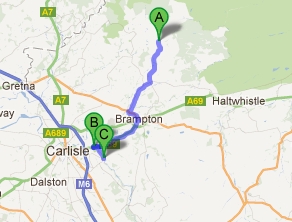 Simon married 24 Apr 1777 at Bewcastle, Cumberland to Isabel (Isabella) LITTLE (ref FamilySearch).
It appears that the banns were read at the parish church of Stapleton on 13 Apr 1777, this being approximately 5 miles from Bewcastle, and both being north east of Carlisle (ref Ancestry England Select Marriages, index only).

She was born c1750 (ref her Death Certificate). Her baptism has not yet been found.

In 1795 at the baptism of son Robert, the parents were Simon Little of Aglionby, labourer, and Isabella his wife (late Little).

Simon was buried 23 Jan 1808: 'Simon Little of Aglionby, Labourer, aged 69' (ref Warwick, Cumberland parish records).

Ref 1841 census. Cumberland, England. Civil Parish of Warwick. Registration dist of Carlisle. Address: Aglionby, Warwick.
Isabella Little. Age 90. Ag. Lab. Born in Cumberland. [The reference to Ag. Lab. is curious for a 90 year old unless referring to her late husband.]

Isabella died on 3 Oct 1846 at Wetheral, aged 96, Widow of Simon Little, Gardener, of old age, informant being son Thomas (ref her Death Certificate).

FROM WHOM FREDERICK SHADE IS DESCENDED.
1841 census
Certificates